2021 Chevrolet Corvette Nashville, TN

The 2021 Chevrolet Corvette starts out at $58,900. It is the sportiest, most exotic Chevrolet vehicle that you can find, with an available power output of up to 495 horsepower and 470 pound-feet of torque. It can accelerate from zero to 60 mph in just 2.9 seconds and has a top track speed of up to 194 mph. Plus, you get the versatility you pay for; the 2021 Chevrolet Corvette can be personalized with dual racing stripes in a variety of colors, Stinger strips in dual tones, and a wide variety of exterior colors including two new exterior options and two new interior options.
If you think that the 2021 Chevrolet Corvette might be the vehicle for you, then we encourage you to visit us for a test drive. Keep reading below to learn more about some of the best features of this model.
---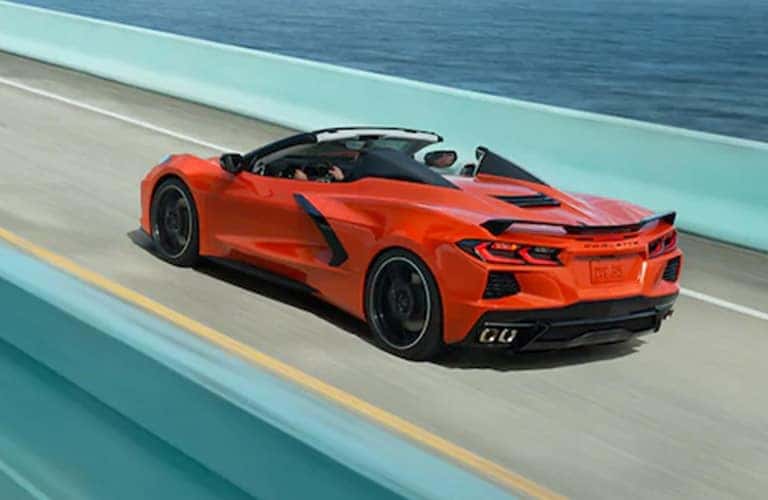 ---
The 2021 Chevrolet Corvette is available here at Carl Black Nashville in Nashville, TN
If you didn't know, the 2021 Chevrolet Corvette is a convertible vehicle. It offers a retractable hardtop roof which adds just 77 pounds of weight to the vehicle and doesn't take up the vehicle's impressive storage room. This roof is power-adjustable, so you don't have to manually retract it. It has its own storage area where it retracts and is safe from the elements. When you park, you can put the roof back on for extra security and coverage against precipitation. The hardtop can be body-colored or Carbon Flash color, and it can retract while you are driving. The retracting feature is available at up to speeds of 30 mph but won't work when you go faster than that for your own safety.
One of the most important aspects of the 2021 Chevrolet Corvette is the driver's seat. The front console has been tailored to the driver, offering a slanted center console, a flat-top and flat-bottom steering wheel, paddle shifters, and controls within an arm's reach for audio, seat heating, and much more. There are multiple seat options so every driver can find one that suits them.
---
Click here to view our Chevrolet Corvette inventory
---