2021 Chevrolet Trailblazer Nashville, TN
2021 Chevrolet Trailblazer Nashville, TN
The 2021 Chevrolet Trailblazer has already captured our hearts with its rugged good looks and standout two-tone paint design. Starting at $19,000, the 2021 Chevrolet Trailblazer is an affordable, small, crossover SUV for families on a budget who still want that high-end feel in their next vehicle. There is a lot to love about this model, so buckle up for our research page.
We'll start with the basics. The 2021 Chevrolet Trailblazer is an all-wheel-drive (AWD) model, which is a drive option that gives power to all of the wheel axles on the vehicle, helping it to maintain traction. AWD is a popular option, especially for those of us who drive through snow or rain regularly. The 2021 Chevrolet Trailblazer is a five-seat vehicle, which puts it on the smaller side for an SUV, but it still boasts up to 54.4 cubic feet of available cargo space, which is probably about triple or quadruple your current sedan's cargo space. Keep reading below for more detailed information on the exterior and interior features.
---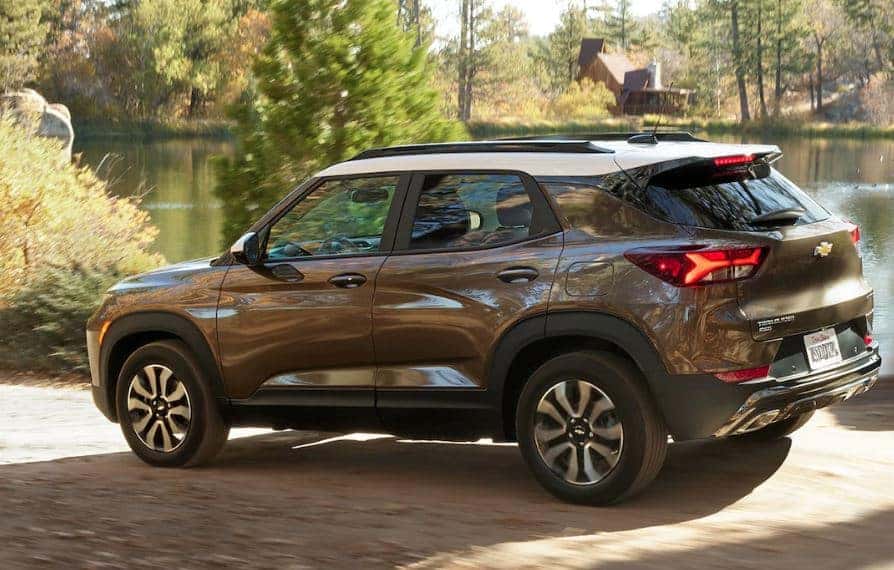 ---
Find a 2021 Chevrolet Trailblazer vehicle here at Carl Black Nashville in Nashville, TN
We've already mentioned that the 2021 Chevrolet Trailblazer has a large cargo space. It also has many features that help you take advantage of that space, which measures 8.5 feet in length at its maximum length. These features include flat-folding seats, split-folding seats, and a hands-free liftgate. Seats that fold flat are convenient for storing cargo items that you don't want to tip. Furthermore, having the option to split-fold your seats, meaning to fold only one section down while keeping the other section up, allows you to have exactly how many seats you need in use, with the others being used for cargo space. A hands-free liftgate is an available feature that makes it easier to access your rear cargo area.
In the passenger area of the 2021 Chevrolet Trailblazer, you'll find a modern vehicle with all of the extra padding and comforts that you're looking for. These include technology items that make your life more convenient, such as wireless Apple CarPlay ® and wireless Android Auto ™, which allow you to use your Apple or Android phone through your vehicle's touchscreen and speakers via a Bluetooth connection, meaning that you don't have to worry about tricky, annoying cords which continuously break and need to be replaced. The 2021 Chevrolet Trailblazer also offers wireless charging.
---
Click here to view our Chevrolet Trailblazer inventory
---