Loving the Lineup of 2019 Chevy Cars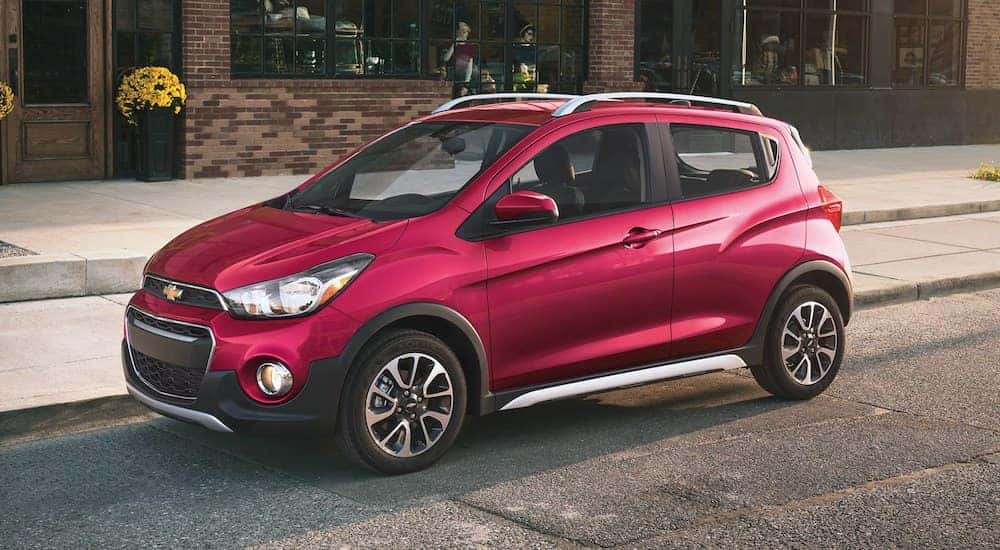 Full disclosure: there are a lot of new cars introduced every year and we know how easy it is for all of the options available to become overwhelming. We love cars: we buy cars, we sell cars, we dream about cars, sometimes we eat cars… okay so we don't eat cars, but we think about them a lot. With that in mind, the best way to get familiar with the newest Chevy cars that are coming out is to just take a look at each one and see what it has to offer.
Once you do that, the mystery and confusion about what is available, what each name and model means and brings to the road, and how they all fit together in a single lineup can quickly fade away. We'll take a look at some of the specs and details on each of these upcoming Chevy cars; but don't worry, you don't have to be an automotive engineer to understand it all. In general, larger numbers are better and more options just means you get to customize your new ride in all sorts of fun ways.
Standard Cars
When you talk Chevy cars, these are the first models that come to mind. Here are the newest versions of the cars that have been on the road, in one form or another, for many years. Great options, low prices, and having something for everyone has kept these models favorites coming back for a wide range of drivers for generations.
2019 Chevy Spark
The Spark is the perfect choice for anyone looking at Chevy cars with an eye toward affordability without sacrificing style and functionality. This is the least expensive option on offer by Chevy for model year 2019, yet it is still loaded with a ton of great features and available choices. It has incredible fuel economy, at 29/38 MPG driving in the city or on the highway, and has more than 27 cu. Ft. of cargo space available despite its slim design and petite size. Plus it has 10 airbags, can connect to your smartphone, has two USB ports, and is available with 4G LTE Wi-Fi connectivity.
2019 Chevy Sonic
When looking at Chevy cars that are a little larger, but still light on your budget, then the Sonic is a great choice. It has terrific fuel economy, giving you 26/34 MPG when driving in the city or on the highway. The slightly larger size of the Sonic compared to the Spark means you get more than 47 cu. Ft. of cargo space in this car, which is close to double what you get with the Spark. That can be an important difference if you need extra room for getting groceries or moving other items around town. The Sonic is available as either a 4-door sedan or a 2-door hatchback, so it's a great option for a wide range of drivers.
2019 Chevy Cruze
The Cruze is among the best Chevy cars available, and probably what you're looking for if you want a mid-range choice at a reasonable price but with a lot of features and options. It has excellent fuel economy, offering 28/38 MPG in the city or on the highway. The Cruze Hatch has more than 47 cu. Ft. of cargo space and this model is available as either a 4-door sedan or a 2-door hatchback. This is a great choice for anyone interested in luxury upgrades since available options include heated seats, a heated leather-wrapped steering wheel, and ambient lighting.
2019 Chevy Impala
Those looking for brand new full-size Chevy cars should look no further than the 2019 Impala. It's a four-door sedan that offers great fuel efficiency at 22/29 MPG in the city or on the highway. It has 18.8 cu. Ft. of cargo space in the trunk, plus additional room in the backseat if there are no passengers. Luxury and comfort are no strangers to the Impala, with numerous features and options that make your ride as stylish as you are. Plus there is an available 3.6L V6 engine if you want to get where you're going even faster.
Electric Cars
A nice sleek Chevy sedan is great, but it's model year 2019, which means you have more options than ever before. When it comes to electric Chevy cars, there are two different options available that can fit a wide range of budgets and lifestyles. While these vehicles are more expensive than standard cars, they tend to save owners money in fuel and other savings in the long run.
2019 Chevy Volt
The Volt is a hybrid that gives you flexibility between a pure electric ride and the use of gas. This is a 4-door sedan that offers stylish comfort and an incredibly smooth ride, but the hybrid functionality is really the focal point here. It's one of the leaders in terms of fuel economy for Chevy cars, depending on how you use it. Running purely on electric, with a full charge, the Volt can travel up to 53 miles. Using both electric and gas, with a full charge and full tank, you can go up to 420 miles without stopping. If you regularly keep it charged, the Volt can travel up to 1,100 miles before refilling the gas tank!
2019 Chevy Bolt EV
Hybrids are great, but if you are interested in purely electric Chevy cars, then the Bolt EV is the one for you. No more need for gasoline, the Bolt EV can travel up to 238 miles when fully charged without stopping. The Bolt EV is a beautiful, fully electric car that can be charged very quickly at specially designed charging stations, or more slowly at any available 120V outlet. It can get plugged in at home or at work and be ready to roll in the morning or at the end of the day. Plus the Bolt EV includes all the great tech features of other Chevy cars such as an 8-inch touchscreen display and compatibility with various music apps.

Performance Cars
These are the Chevy cars that people refer to when they talk about sports cars or "supercars." We'll promise not to drool too much while discussing these. They're certainly not for every budget, but for those of us who love the feel of a powerful engine on an open road, there is simply nothing better.
2019 Chevy Camaro
A new look on the classic face of the Chevy sports car, the 2019 Camaro is an elegant blend of style and performance. This is the most affordable performance car from Chevy and is realistic for a pretty diverse range of budgets. That being said, it has a standard 2.0L engine that offers 275-hp, with the Chevy Camaro ZL1 coming with a 6.2L V8 engine that offers 650-hp. It's a joy to drive and looks absolutely gorgeous.
2019 Chevy Corvette Stingray
We're not sure what it is, but there's just something about a Stingray. The classic swooped design and signature look aren't matched by anything else on the road. This is one of the most powerful Chevy cars you'll see, thanks to a 6.2L V8 engine that offers 460-hp. and up to 465 lbs.-ft. of torque. The Stingray can go from 0-60 in just 3.7 seconds and includes a 7-speed manual transmission or available 8-speed paddle-shift automatic transmission.
2019 Chevy Corvette ZR1
Finally, there's the pinnacle of performance Chevy cars, the Corvette ZR1. This is well outside a lot of budgets, and definitely not the right fit for a lot of lifestyles. But those who are looking for the apex of speed and power have found what they've been searching for. It looks absolutely gorgeous and packs a supercharged 6.2L V8 engine that offers 755-hp. and 715 lbs.-ft. of available torque. It can go from 0-60 in less than 3 seconds and on a test track has topped out at over 200 MPH, but let's keep that on the test track, please.