New vehicle specials starting in March 2020 at Carl Black Nashville

Are any vehicle specials available in 
March
 2020?
Right now, many people are going through a rough patch, and Carl Black Nashville wants to help them out. To help people purchase that new vehicle they have been wanting, the dealership is offering new vehicle specials that can help drivers defer payment to a later time and keep their payments low. Below, we have more of the details on two of the new vehicle specials starting this month at Carl Black Nashville. 
---
Special APR 
f
inancing rate for new Chevrolet vehicles
Low APR financing rates have always been a favorite deal of customers. APR stands for annual percentage rate, and it is the price you will pay for borrowing money. Basically, it is an annual interest rate, which means the lower it is, the better. Many shoppers are happy to purchase at an APR in the single digits, but we bet that anyone would love a zero percent APR. Right now, you can find that at Carl Black Chevrolet. For qualified buyers on certain Chevrolet vehicles, enjoy a 0% APR financing rate.  
How long will that special rate last? You will be pleased to hear that right now you can get 0% APR financing for up to 84 months. That is an entire seven years that you can enjoy a 0% interest rate on your vehicle purchase.  
---
Click here to view our service specials
---
Deferred payments on new Chevrolet vehicles
The other thing that a lot of shoppers are looking for right now is to postpone payments on their new vehicle purchase. You want a vehicle now, but you don't want to start paying for it for another three months. Currently, at Carl Black Nashville, you can make that a reality when you finance with GM Financial. Purchase select Chevrolet vehicles and defer your monthly payments for up to 120 days, or roughly a four-month period. 
---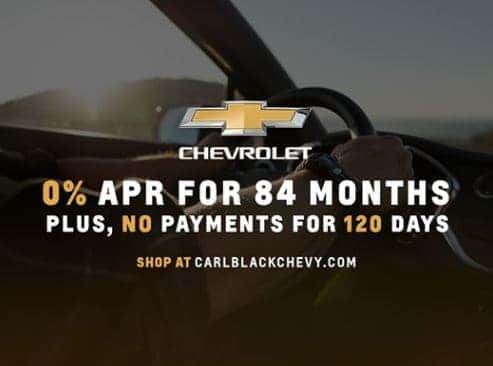 ---
Who is eligible for new vehicle specials on Chevrolet 
vehicles
?
You won't have to jump through any hoops to take advantage of the current specials at Carl Black Nashville. Simply finance your new Chevrolet vehicle with GM Financial and choose one of the eligible vehicles, including the 2020 Chevrolet Equinox pictured above. If you have any questions or concerns about which Chevrolet vehicles qualify and whether you qualify as a buyer, then please talk with a member of our team at your earliest convenience. 
---
Click here to view more offers and incentives
---