2020 Chevrolet Blazer Trim Level Comparison

The 2020 Chevrolet Blazer has five trim levels called the L, 1LT, 2LT, 3LT, RS, and Premier. All five trim levels come in a front-wheel-drive (FWD) version, while four of the trim levels—the 2LT, 3LT, RS, and Premier—come in an all-wheel-drive (AWD) version as well.
The standard 2020 Chevrolet Blazer trim levels, 1LT, 2LT, and 3LT, set the 2020 Chevrolet Blazer in its standard style. This means a horizontal black grille, available 20-inch aluminum wheels, and rounded dual exhaust pipes. The main difference between these three trim levels is that as you go up the numbers, they also offer more premium features and extra engine options, while also increasing in price. Overall, they are similar trim levels that give you a classically good-looking vehicle. Below, we will dive more into the RS and Premium trim levels, two high-end trim levels that stand apart, and show you different sides of the 2020 Chevrolet Blazer.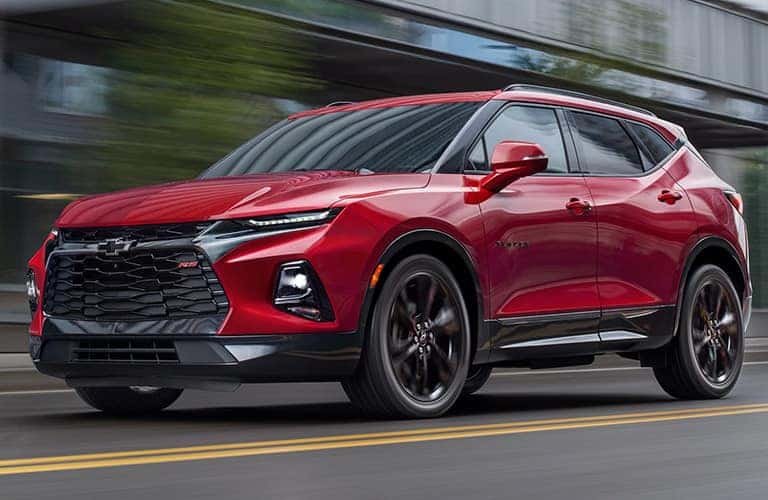 2020 Chevrolet Blazer vehicles are available here at Carl Black Nashville, your Chevrolet dealership in Nashville, TN
The RS trim level is one that you may have heard of before. It is a traditional Chevrolet trim level that has been carried through multiple vehicle line-ups because of its overwhelming popularity. The thing that sets the RS trim level apart from others is its dark, cool style that shows itself through more black accents. For the 2020 Chevrolet Blazer RS, you will get a custom black mesh grille and a unique black bowtie emblem upfront. Jet black leather seating surfaces with red accents will greet you on the interior. This dark, handsome trim level is waiting for you at Carl Black Nashville.
The Premium trim level goes in another direction completely from the RS, but it still adds luxury touches and a distinct style that distinguishes it from the other trim levels. With the 2020 Chevrolet Blazer Premium, you won't be getting dark accents. Instead, you'll find beautiful, reflective chrome accents on this trim level. Inside, the Premium opts for leather seating surfaces as well, along with suede microfiber material.
One last thing that we'd like to go over is the price and standard engine type. Starting with the L, which starts out at $28,800 and has a 2.5 L engine. The 1LT starts out at $32,300 and has a 2.5 L engine. Next up, the 2LT is just a little more expensive, starting at $32,800 and sporting a 2 L turbocharged engine. The 3LT is a bump up at $37,000, also with a 2 L turbocharged engine. On the higher end, the RS starts out at $40,600 and is outfitted with a 3.6 L V6 engine, and the Premier is priced at $42,700 with the same engine.
---
Click here to view our Chevrolet Blazer inventory
---