Chevy Trucks
Chevy as a company has always been award certified and is very proud of it. The Chevy truck line is only proof of the constant effort placed into engineering these vehicles. Chevy trucks in any model and trim are all about creating the ideal mixture of aggressive power, and professional style. Chevy succeeds at this by installing the strength of steel, spacious cargo beds, and boxed frames that keep them lasting long and always made to go straight from the line up to the open road.
Whether you desire a truck that is playful, professional, or powerful, you can't go wrong with Chevy's customization closet packed with models, trims, features, and additional appliances to fit every need. It is so packed that it can be helpful to have each model displayed nicely for you. So, here is the current lineup of Chevy trucks.
Why Carl Black of Nashville?New VehiclesSpecials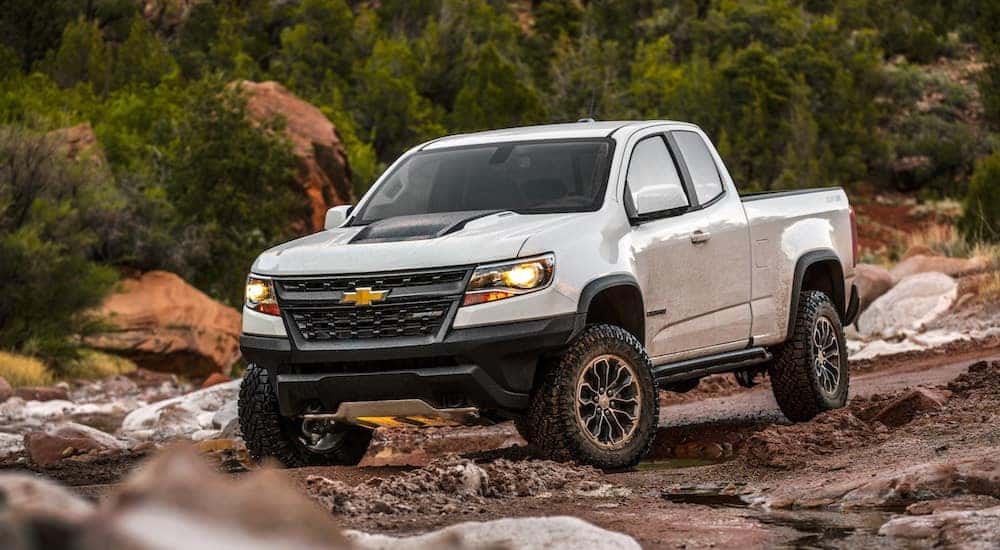 2020 Colorado
Still being made today, the Chevy Colorado is a mid-size pickup that was first introduced in 2004. It can have anything from 200 to 308 horsepower and 191 to 275 lb.-ft. of torque. With two engine options between the 2.5L 4-CYLINDER and 3.6L DOHC V6, Chevy trucks gives you all the power you want, literally. Depending on which you choose it can have a towing capacity from 3,500 to 7,000 lbs. As for fuel efficiency, it has an impressive 33 MPG on the highway. These are the base stats of this line of Chevy trucks, but it can go much deeper.
It has a side for every occasion and can balance work and play with the best of mid-size pickup trucks. Its standard triple-sealed doors and thick windows keep it nice and quiet. The heated leather-appointed or standard cloth seats show off refined comfort. The one-touch terrain select that is fitting to its mountain-like features frees your wild side.
This Chevy truck offers an impressive five trim levels, three body configurations, three engines, and a choice of rear or four-wheel drive. The five trims feature the new ZR2 followed by the existing Work Truck, LT, and Z71 trim levels. Finally, the advanced infotainment and safety alert systems bring out the techy in all. It has all the best features and packages options on the market making it a ride with limitless potential to cater to your life. Talk about a ride of many faces.
So, the pros for this Chevy truck can be easily broken down. The engines are as strong as you desire them to be. The versatile terrain ability makes you feel at home anywhere. The cabin's comfort would almost make you forget that you are in a power-hungry pickup truck. Finally, the shining star of the 2020 Colorado Chevy truck is its extensive assortment of options to make it fit exactly how you need it to.
2020 Silverado 1500
This Chevy truck has a lot going for it in modern years. Unlike the Colorado, the style of the Silverado 1500 is more bold and brash. It may fit in everywhere, but for those that do fall for its aggressive charm will stand behind it forever. Its style matches its power to perfection. The Silverado 1500 has optimal trim options including Custom, Custom Trail Boss, LT, LT Trail Boss LTZ, Work truck, High Country, RST, and custom trimming. You can also pump up any trim with features and accessory add-ons.
At the mention of power, under the hood, you can find strong engine choices. The standard Silverado 1500s include a 4.3-liter V6 with 285 horsepower and 305 pound-feet of torque. With that muscle, it can tow a minimum of 6,600 pounds and a maximum of 9,800 pounds easy. Getting your boat to the dock and your trailer to the site has never been so convenient.
The inside allows for three cab formats. The regular cab, which is the least expensive, the extended with front-hinged rear doors, and a crew cab with an SUV feel to it. The bench seating is standard and can fit three people up front with decent comfort to all. It's not all brawn and beauty though; this Silverado has got a great infotainment system with all the bells and whistles. This is an all-around well rounded Chevy truck.
In summary, this brash truck with the strong engines will leave you feeling like a lord of the road. It's conservative interior and exterior only adds to that feeling. If you require a bit more brains with your ride, the 2020 Silverado 1500 has terrific infotainment and makes you feel safe with its automatic emergency braking option. At the end of the day, the more you know about this model, the more its power seduces you, and it's a lust you have no reason to refuse.
2020 Silverado HD
The Silverado HD comes in both three-quarter ton 2500HD and full-ton 3500 HD. These are full-size heavy-duty Chevy pickup trucks. The HD Silverado series like the 1500 models comes in LS, LT, LTZ, Work Truck, High Country, and custom trimming. The work truck is generally a fleet vehicle and customized for those in a business setting. Moving from there, they climb in waist and taste from LT to LTZ and end with the High Country trim. There are also the in-between and custom trims.
Every Silverado HD model comes standard with a 6.0-liter V-8 engine pushes out 401 horsepower and 464 pound-feet of torque. Rear-drive is standard, but most up for the four-wheel luxury since this model was made for the terrain. It's a true bulky pickup if there ever was one.
As for some of the more comfortable features, the 2020 Silverado HD Chevy trucks has got the space. A bed big enough to never need to call a mover again, and front seats spacious enough to fit at least 3 and still have plenty of legroom. The configurations come in 2-bed sizes and three cab features. The layout for these goes as followed. You can either have a short or a long bed, 6-foot-6 or 8-foot. You can have two-doors, four-doors, or an elaborate crew cab. The 3500HD even give a single or dual-rear-wheel option. You cannot mix all these possibilities, but it still allows for plenty truck possibilities.
The engineers honestly pulled out all the stops for these 2020 Silverado HD models. There are multiple engines to choose from, each more powerful than the next. On the outside it's sleek, but on the inside, its durability is top of the line. In conclusion, this Chevy truck pleases with its power and innumerable options available. That seems to be Chevy's best card to play with its trucks.

The Wrap Up
As a company Chevrolet has won its fair share of awards. Most notably the JD power and dependability award for its Chevy trucks, not just one year, but two years in a row. The Colorado has got your everyday needs mixed with a wild side, while the Silverado pushes the limits of what is defined as powerful. You truly can't go wrong when it comes to choosing any of the modern line's Chevy Trucks. Each is powerful, comfortable, and versatile in its features. If a truck that allows you to feel like a lord on any road is your dream, Chevy will grant that.