2021 Chevrolet Trailblazer Safety Features

How safe is the 2021 Chevrolet Trailblazer?
The Chevrolet Trailblazer has not made an appearance in some time. It went out of production for several years after the 2009 model, but now, over a decade later, it is making a return with a 2021 model. Below, we will tell you about the 2021 Chevrolet Trailblazer safety features to give you an idea of how it compares to previous models. 
---
2021 Chevrolet Trailblazer active safety features
In the gap of time that the Chevrolet Trailblazer was absent, car designers have made active safety features a priority on new models. Now, it is almost unheard of to produce a new car without at least one active safety feature, although the amount and type of safety features still vary from car to car. Chevrolet went all out with the 2021 Chevrolet Trailblazer, equipping it with optional and standard features that represent the most popular driver assistance features. The following is a list of what we know the 2021 Chevrolet Trailblazer to have so far in terms of active safety: 
Front Pedestrian Braking

 

Automatic Emergency Braking

 

Lane Keep Assist with Lane Departure Warning

 

Optional Adaptive Cruise Control – Camera

 

Rear Park Assist

 

High Definition Rear Vision Camera

 
One Chevrolet employee summed them up like this: "These features deliver added confidence and peace of mind behind the wheel, helping drivers monitor the vehicle's surroundings and the driving environment with an available combination of camera, short-range radars, and ultrasonic sensors," said Steve Majoros, director of Chevrolet passenger car and crossover marketing. 
---
Click here to view our new Chevrolet inventory
---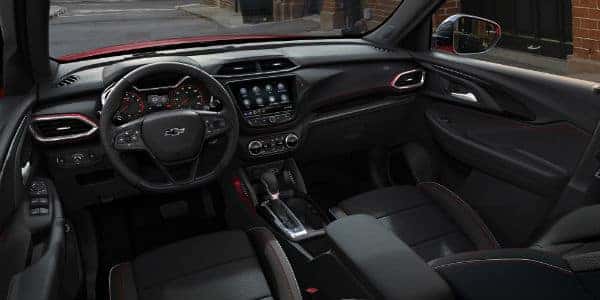 ---
Why are active safety features becoming so popular?
The vehicle industry has always been looking for new ways to make vehicles safer, and active safety features are the latest product of this goal. Active safety features are those that proactively prevent danger, while passive features are those that reactively prevent injury. Passive features have not gotten any less popular. Vehicles still come with the best airbags, seatbelts, and body cages that the industry has to offer, but now they have an added layer of protection with active safety features, also called driver assistance features because they help the driver with their task of driving safely. 
---
Click here to learn about the 2021 Chevrolet Trailblazer release date
---
Are active safety features the same as autonomous driving?
Active safety features are not the same as autonomous driving. Autonomous driving means that the car is managing every aspect of driving, while active safety features are just meant as a buffer against danger. Chevrolet warns that active safety features should not replace vigilant driving and awareness. 
---
Click here to learn more about the 2021 Chevrolet Trailblazer
---