Chevrolet Trax accessories in Nashville, TN

Where can I buy accessories for my Chevrolet 
Trax
 in Nashville, TN?
Where can you find Chevrolet Trax accessories in Nashville? Right here at Carl Black Nashville, your one-stop-shop for everything Chevrolet from new vehicles to maintenance, to accessories and parts. Below, we will take you through how to shop for Chevrolet Trax accessories on our website and what accessories are available at our dealership. 
---
How can I shop for Chevrolet 
Trax
 accessories online?
Right here on our website, you can find accessories for your Chevrolet vehicle by clicking on the "Accessories" tab at the top of our site. This will link you to an online store. In order to find accessories for your vehicle, you will either need to know basic vehicle information such as the year, make, model, trim level, and drivetrain, or you will need to know your vehicle's VIN (Vehicle Identification Number).  
You probably know your vehicle's year, make, and model off the top of your head, but if you have forgotten its trim level, there is often a decal located somewhere on your vehicle's exterior with the name of the trim level, often two letters like "LS." Drivetrain refers to whether you bought a front-wheel or all-wheel-drive vehicle. 
---
What accessories are available for the 2020 Chevrolet 
Trax
 LS AWD?
We are going to use the 2020 Chevrolet Trax LS AWD model as an example of available accessories but know that many of these are available for different models of the Trax and different Chevrolet models. We'll break it down into interior and exterior accessories. 
---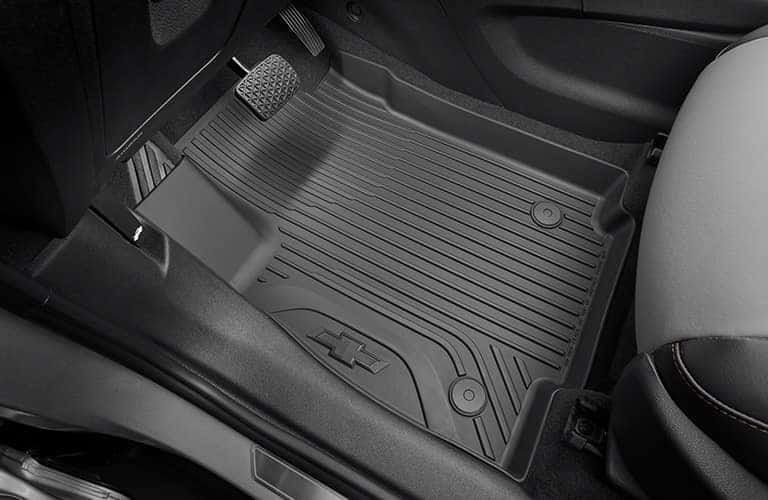 ---
2020 Chevrolet 
Trax
 LS AWD interior accessories
Interior accessories for the 2020 Chevrolet Trax include floor liners, floor mats, interior protection, electronics, interior cargo management, and more. For smokers, the 2020 Chevrolet Trax offers a Smoker's Package for $55. This accessory includes a car-specific ashtray and lighter set to fit your vehicle. Interior cargo features include a vertical cargo net to keep things from falling out the rear liftgate or a cargo organizer in jet black with the bowtie logo. 
---
2020 Chevrolet 
Trax
 LS AWD exterior accessories
Exterior accessories for the 2020 Chevrolet Trax include deflectors, exterior emblems, license plate frames, molding accessories, splash guards, exterior cargo management, and more. For outdoorsmen, the 2020 Chevrolet Trax offers a sports cove, which can be used to get some shade. Exterior cargo management accessories include various racks for specific equipment such as a kayak carrier. 
---
Click here to view our inventory
---