How Long Does It Take to Fully Charge a 2022 Chevy Bolt EV?
The new 2022 Chevy Bolt EV is a surprisingly affordable and fun-to-drive car. It can zip from 0-60 mph in 6.5 seconds and has a 259-mile range. It's the perfect car for driving around the Nashville area – especially with current gas prices. But does it take a long time to charge? We'll answer this question as well as others below.
You can charge your 2022 Chevy Bolt EV from a regular power outlet, a special 240V outlet, or at one of many thousands of charging stations across the country.
Charging Options for the 2022 Chevy Bolt EV
There are three tiers of charging for the 2022 Chevy Bolt, which are:
Tier 1:  Basic Charging.  plug your car into a standard wall outlet. This means you can charge your car pretty much anywhere. This level will replenish about 4 miles of range per hour, so from empty to full could take over 60 hours. That said, if you mostly do short hops, this option gives you plenty of flexibility.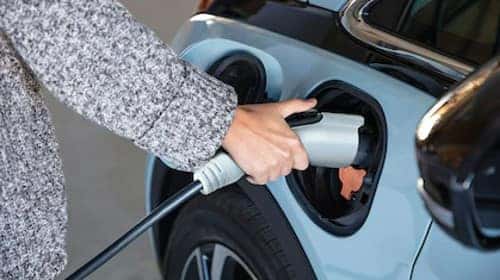 Tier 2:  Fast Charging. Installed by an electrician (and your garage might already have one), the 240V outlet provides a charge from zero to full in about 10 hours. This is the recommended solution for daily drivers. Bring your available Dual Level Charge Cord along with you for increased flexibility. For example, most RV parks have these types of outlets readily available.
Tier 3:  Super-Fast Charging. Available in a specialized wall charger and at public charging stations, a 48-amp charging unit can fully recharge your 202 Chevy Bolt EV in about 7 hours. These types of chargers can operate at even higher amperages for maximized charging, although the car must support it. This option is optimal for longer trips and people with longer commutes.
---
Read More:  The 2022 Chevy Bolt EV Is Electrifying
---
Where to Buy a 2022 Chevy Bolt EV in Nashville
If you're looking for a new EV in Nashville, Carl Black Chevrolet can help. Contact us for more information on the 2022 Chevy Bolt EV or EUV!