The 2024 Chevy Corvette E-Ray Delivers Electrifying Performance

2023 Chevy Corvette E-Ray Performance 
The future is now –electrified vehicles are taking the world by storm (and leaving gasoline bills in the dust). You have heard about some amazing performance stats in EVs and hybrids – but Chevy takes it to the next level with the Corvette E-Ray. Come see what makes the 2023 Chevy Corvette E-Ray performance so special. Keep reading for the full scoop! 
View Our New Chevy Corvette Inventory Here! 
The Corvette E-Ray Posts the Fastest 0-60 MPH Performance in a Corvette Ever
The 2024 Chevy Corvette E-Ray matches the LT2 V8 engine with a hybrid powertrain. The total horsepower output is a blistering 655 combined. Putting all that power to the pavement is the e-AWD system, which is a first for the Corvette nameplate. Another first for the nameplate is a 0-60 MPH time of 2.5 seconds, placing the E-Ray firmly in supercar territory. Some other performance features and specs include: 
Quarter mile in 10.5 seconds

. This type of time was once reserved for non-street legal cars.

 

Magnetic Selective Ride Control™

. The onboard computer controls the suspension, which means it can react to changing road and driver conditions in milliseconds. The system allows for different ride settings, including sport and cruising modes.

 

Available ZER performance package

. Push the performance of your E-Ray even higher with high-performance Michelin® Pilot® Sport 4 S ZP summer-only tires, chassis tuning, and other performance enhancements.

 
The E-Ray comes in either coupe or convertible, and each has 3 trim levels. The trim levels are LZ1, 2LZ, and 3LZ. Each comes with plussed-up items like a performance recorder, a 14-speaker Bose entertainment system, GT2 seats, and more.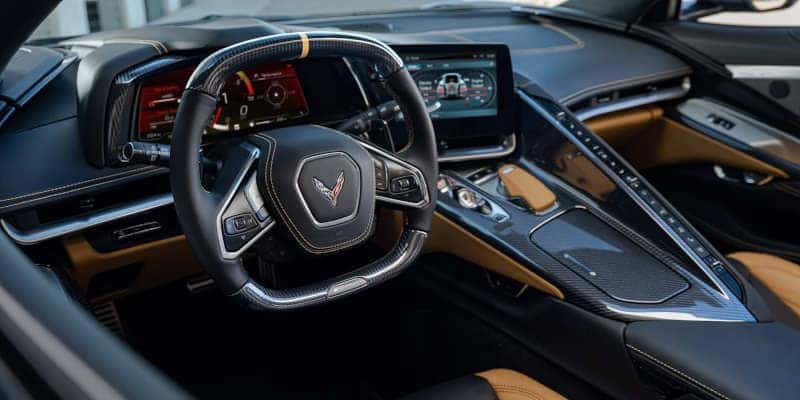 Find out more about the 2024 Corvette E-Ray by following the link below. If you have any questions, please contact one of our experts! 
————————–  
Where to Find a Chevy Corvette near Nashville, TN
Whether you want one now or if you want to wait for the E-Ray, we can help you find your new Corvette. Please contact us for if you have any questions or need assistance – we're here to help you find the right vehicle for you!