The Best Chevys for Mountain Driving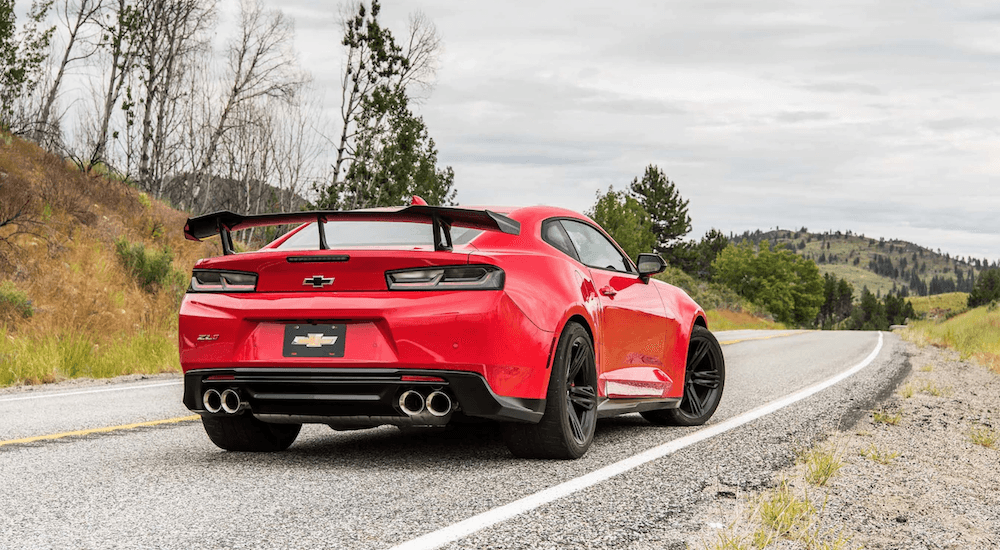 If you love the great outdoors and live in or near Nashville, there's nothing better to do on the weekend than packing up the family and taking them through the Great Smoky Mountains. This national park features amazing views, diverse wildlife, and a rich history of the culture of Southern Appalachia. Enjoy activities such as camping, hiking, fishing, horseback riding, and auto touring.
Auto touring offers you a great way to see the park without leaving the comfort of the air conditioning in those hot southern summers. The auto tours allow you to see the park in all of its glory, including gorgeous views, beautiful streams, historic buildings, and full-grown hardwood forests. There are 384 miles of road to traverse in the park, allowing you to fully see and experience everything the Great Smoky Mountains have to offer. However, you may be wondering what the best Chevrolet Nashville Dealership can offer. Here, we'll show you a variety of Chevy vehicles that can help make your trip enjoyable and meet your needs in everyday life.
Chevrolet Colorado ZR2
The Chevy Colorado is a fresh take on the midsize truck category, perfect for the driver that wants the utility of a truck without the problems that come with a full-size truck's size and bulk. With the Chevy Colorado come numerous available trims and special editions to appeal to every possible type of customer. After all, the Colorado has the only available diesel engine in its class, and it gets the best in class gas mileage with 22 MPG in the city and 30 MPG on the highway. One of the available trims is the ZR2, a trim designed especially to excel in off-road and mountainous environments. This truck was designed also designed to compete directly with the Tacoma TRD Pro and the Raptor.
The ZR2 includes an upgraded suspension, wider wheelbase, locking front and rear differentials, and traction control, a necessary feature for any four-wheeler. Features include one-touch terrain select for desert, mud, or mountains that adjust the calibration of the engine, transmission, and traction control to perfect the truck's performance. The two engine choices are a 3.6L V6 with best-in-class horsepower or the exclusive Duramax® 2.8L turbo diesel engine with best-in-class torque. Either way, you're getting a whole lot of power. The Colorado ZR2 starts at $40,360.
Chevrolet Bolt
We know what you're thinking. There's no way an electric vehicle can make it through the mountains. Well, maybe not every electric vehicle could make it through a range like the Great Smoky Mountains, but the Chevy Bolt certainly can. After all, a driver in California describes how he took his Chevy Bolt, which also happened to contain additional passengers and luggage, from Oceanside to Palm Desert. This over 90-mile trip involved crossing through the Santa Rosa and the San Jacinto Mountains National Monument. Though the car used up a lot of its electric range on the uphill trek, it gained back much of its battery life on the slow descent down the mountains, proving that the Bolt is more than capable of handling steep terrain.
The Chevy Bolt uses a 60 kWh lithium-ion battery that is rich in nickel. This battery technology offers 200 horsepower and 266 lb.-ft. of torque, pretty respectable for an electric car. You'll also get an EPA-estimated 119 MPG combined with the 2018 Chevy Bolt.  On a single charge, the Chevy Bolt has a range of about 238 miles, approximately the same range as a traditional car would get on a full tank of gas before needing to stop and fuel up. Easily find charging stations with charging apps on your smartphone, and you're roadtrip-ready. The Bolt starts at $37,495.
Chevrolet FWD Premium
Maybe you prefer winter trips over summer ones. After all, looking at mountain peaks covered in snow is quite picturesque. Though snow infrequently falls in the Great Smoky Mountains at lower altitudes, it can snow from October through April at higher elevations. Make your winter road trip perfect with the powerful all-wheel drive of the Chevy Tahoe FWD Premium. This SUV is full size, with three rows and heated seats to keep you warm during your winter trip.
The standard engine is a 5.3-liter direct gasoline injection V8 that gets 355 horsepower and 383 lb.-ft. of torque. Or, you can opt for the 6.2-liter direct gasoline injection V8 that comes with a whopping 420 horsepower and 460 lb.ft. of torque. This trim also comes standard with magnetic ride control, a feature that allows the suspension to adapt to changing surface conditions instantly. This feature is perfect for treacherous mountain roads, especially in the winter time. This trim starts at $66, 495.
Chevrolet Silverado 1500 LT Z71
Enjoy America's favorite pickup truck with the additional power and capability of off-road driving. There are many different trims and packages to choose from with the Chevy Silverado 1500, but the Z71 off-road package will give you everything you could possibly want from a full-size off-roading truck.
The 2018 Chevy Silverado has a lineup of powerful, fuel-efficient engines to choose from to ensure that you can save fuel without sacrificing power. The available engines include a 4.3L V6, a 5.3L V8, and a 6.2L V8. Other features that make the Silverado a powerhouse of performance include a tow/haul mode that reduces shift cycling, StabiliTrak™ with trailer sway control to prevent and manage swaying trailers, and hill start assist to help prevent rollback. These features make sure that you're safe on those treacherous mountain roads, even if you're hauling a camper or a trailer along with you. The Z71 off-road package also includes Goodyear Wrangler DuraTrac® off-road tires to give you the crisp performance you expect from a Chevy.
Whether you need a midsize pickup truck, a full-size pickup truck, an SUV, or even an electric vehicle, Chevy has options for you to choose from. No matter which one you pick, all of them will give you the features you need for mountain driving.