The Top 5 Benefits of Shopping With a Tennessee Chevy Dealer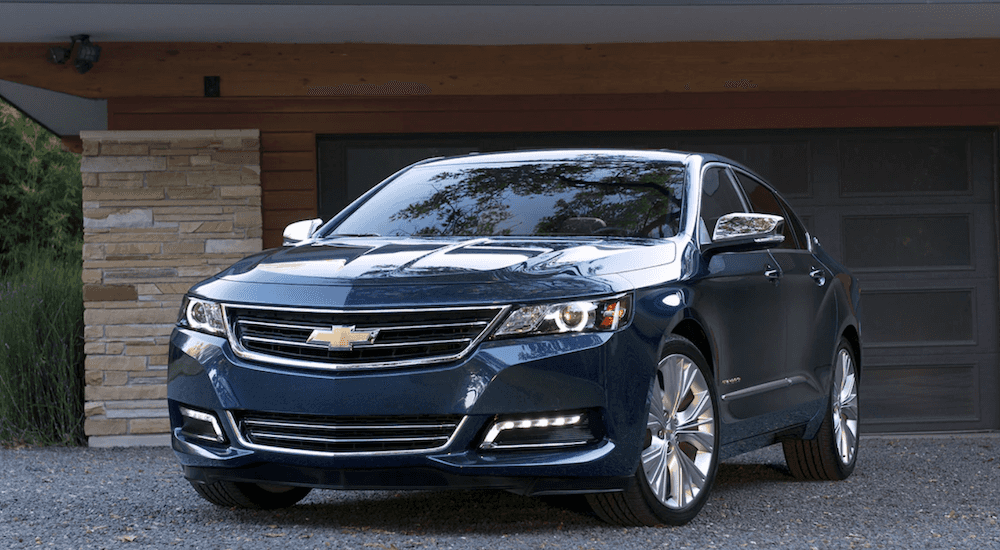 It seems there are so many vehicles to choose from these days. So many makes, so many models, so many brands. When it comes time to buy a new vehicle, whether it be an SUV, a truck, or a sedan, you might not know where to start, or even where to go once you're ready to look. There are usually many reasons someone would begin a car search. Maybe their current vehicle is out of commission from breaking down. The repairs required are just too costly. But sometimes some car buyers are just browsing for something new. They want a new shiny vehicle with that new car smell. We know the feeling. But what kind of vehicle should they choose? Well, we might be a little biased, but we think Chevy is the way to go. At Carl Black Nashville, we love Chevy for good reason. One of the main reasons is that Chevy's are incredibly versatile.  You can really choose from any type of vehicle, from a sports car to a luxury sedan, if you are looking for a car. But what if you are looking for a heavy-duty truck or an SUV for the family? Chevy has those vehicles as well! And not only that but there is a vehicle in every lineup that is considered the best by critics and buyers alike. So, if you think purchasing a Chevy is a great idea, let us tell you why you should choose Carl Black Nashville as your Tennessee Chevy Dealer with five simple reasons below.
#1. Huge Inventory
Our inventory is expansive, and you can tell that just by checking out our website. We have just about every Chevy make and model in stock. So, if you're still undecided between whether to get a new or used vehicle, whether to buy a hybrid, truck, sedan or SUVs, take a look at all of them. We have multiples of each!
Once you've decided to come visit us at Carl Black Nashville, you should have a running list in your head, complete with all the numbers and specs laid out for you on our easy-to-navigate website. We know Chevy vehicles, so we want you to know what you're getting. Whether your top priority is fuel efficiency, horsepower, or infotainment, we can talk to you about the right vehicle for you to fit your every requirement. At Carl Black Nashville, we are knowledgeable, but we are also extremely friendly and pride ourselves on excellent customer service and ensuring that every purchase is transparent and straightforward. No matter what you're looking for in a vehicle, you'll find it at our Chevy dealership with haggle-free pricing and superior customer service.
#2. Friendly Staff
Like we've said before, we only want to sell you the exact vehicle that you are looking for, or better! And if you don't see it right away, we want to help you find it. At Carl Black Nashville, you can trust us to get to know you personally and prioritize your needs. We assure you that many of our buyers have become long-time customers. We don't just want to try and sell you the most expensive vehicle like other dealerships. At Carl Black Nashville, taking care of our customers is our top priority so you'll always be greeted with a warm and welcoming smile.
#3. Best Prices
Our vehicles are very affordable to begin with, and we strive to keep our prices low. We know our customers have a lot on their minds. They really want that new car, but they are also considering budget requirements and how to factor in those potential monthly payments. Mulling over all of that can be very stressful.
At Carl Black Nashville, we've put together many stress-free processes, to make the car buying experience easier on our clients. First from initial savings and then added on specials, we also help you calculate how much money you are able to spend on a new or used car and not a penny more. We strictly adhere to that number and will not stray. Additionally, we are upfront about any additional fees that increase the total cost of your new vehicle. WIth our Chevy dealership, you can feel confident that you are purchasing a vehicle for a price that you understand.
#4. Financial Advisors
Beyond your budget calculations, you might not still be able to afford the vehicle you really want. That's why have a team of financial advisors who are experts in connecting with lenders and banks and getting you a loan you can be happy with. You won't need to leave our showroom to get that process going. We do all of the legwork for you onsite.
Worried about purchasing a car with poor credit? We are experts at getting drivers of any credit into the vehicle they need. We'll work with your credit and budget and help you secure whatever financing best suits your individual situation. If you have poor credit, there is no need to be embarrassed or worried. Just come down to our dealership and speak with our expert finance team about your available options!
#5. Excellent Service Center
Every pre-owned vehicle in our inventory, even those listed under $15K, has undergone rigorous inspection and is in excellent condition. This ensures that we have the highest quality to provide our customers, and they won't want to look anywhere else. So rest assured even if you think you're opting for a less expensive vehicle, our Service Department has worked to make sure that vehicle is up to your standards. We do routine maintenance on every vehicle in stock and we do so just so you can avoid repairs in the future.
We only hire skilled technicians that get the job done. They are highly trained and certified and educated in all things Chevy. We need them to be because we only want the best for our customers. We pride ourselves on being Chevy experts, that includes every single person on staff. Our staff can do it all: engine repairs, battery changes, tire rotations, suspension alignment and more! We also have a ton of parts in stock or can order the one you need with just a quick phone call. We can even add on accessories to your vehicle to make it even better than it already is! How is that for service?
The hours of our service department are also incredibly convenient. We are open Monday through Saturday all day long. We are always ready to make appointments to help you out with your vehicle. And after you've purchased your new vehicle, we will gladly create a personalized maintenance schedule for you. Overall, our versatile service department helps make our dealership your one-stop-shop for all your automotive needs.
Come Visit us at Carl Black Nashville Chevy!
I hope we've given you plenty of reasons to consider Carl Black Nashville as your go-to Chevy dealership. We have the knowledge, the resources, and what you want most of all – great Chevy vehicles! We are friendly, flexible, and all-too-happy to meet you in person to discuss your vehicle needs. So, if you're looking for Tennessee Chevy Dealers come down to the showroom and take a look at what we have. Bring that list of must-haves and let us show you what we can offer!