2021 Chevrolet Equinox Safety Features

How safe is the 2021 Chevrolet Equinox?
Driving safely is a priority when you step inside the 2021 Chevrolet Equinox. Standard safety and driver assistance features contribute to a vehicle that can give you extra peace of mind. Below, you can read about some of the best 2021 Chevrolet Equinox safety features. All of the features below come standard on the 2021 Chevrolet Equinox. 
---
2021 Chevrolet Equinox Automatic Emergency Braking
The Automatic Emergency Braking system on the 2021 Chevrolet Equinox can alert you to an imminent front-end car crash when you are traveling at speeds slower than 50 mph. By alerting you to the possibility of a crash, the system can help prevent a crash or lower the impact speed. The system can also automatically apply hard emergency braking or enhance your braking. At very low speeds, it can also help avoid the collision.  
---
2021 Chevrolet Equinox Forward Collision Alert
Forward Collision Alert can alert you to imminent front end crashes and can let you know when you are following a vehicle too closely, putting yourself at risk for a front-end crash if the vehicle ahead needs to come to a sudden stop. It is important to always keep distance between your vehicle and the vehicle ahead, to allow yourself more time to take action in an emergency. 
---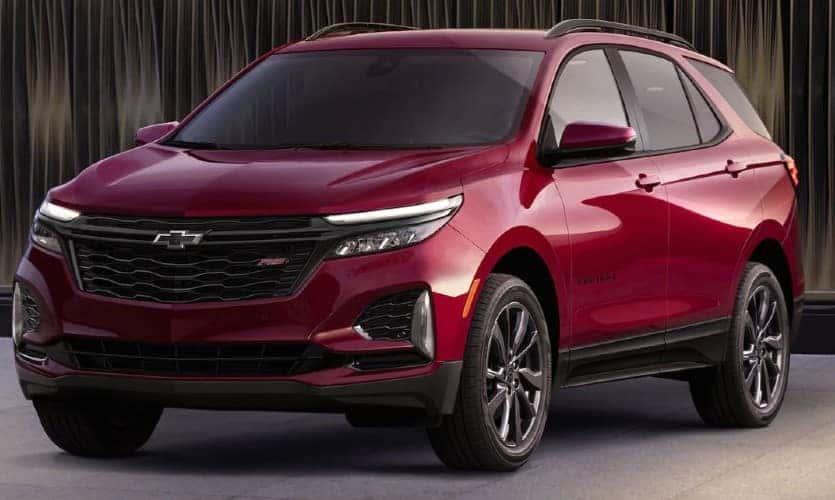 ---
2021 Chevrolet Equinox RS trim level
---
2021 Chevrolet Equinox Front Pedestrian Braking
Front Pedestrian Braking works the same as Automatic Emergency Braking in that it helps to reduce or prevent a front-end collision by automatically applying hard emergency braking. The difference is that this system can detect pedestrians, which are much smaller than vehicles and thus different to detect. The performance of this system may be limited in the dark and at night.  
---
2021 Chevrolet Equinox Lane Keep Assist with Lane Departure Warning
If you have ever been guilty of lane-drifting or of forgetting to signal when you switch lanes, then this safety feature can help you improve. Lane Keep Assist helps you stay in your own lane by detecting lane lines on the ground and adjusting your steering slightly to keep your vehicle centered between them. Lane Departure Warning will send you an alert if you accidentally leave your lane without using a turn signal, which can put others at risk. The system may not alert you if it detects that you are intentionally steering. 
---
2020 Chevrolet Equinox information
---