Chevy Trucks – A Primer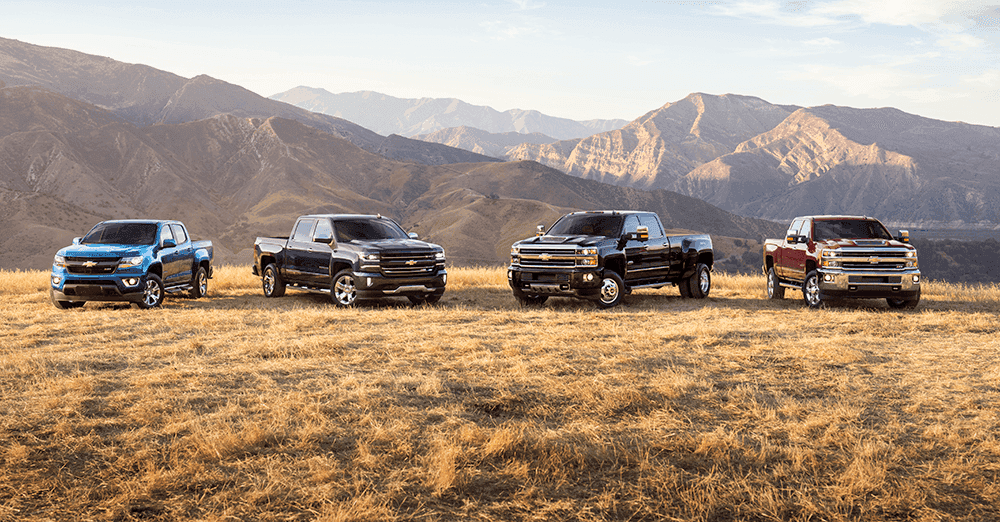 They are some of the most well-known trucks in existence. Chevy Trucks. When you see the Chevrolet badge on one of them, you know that you are driving a great pickup with decades of design and manufacturing experience behind it. These are extremely capable, extremely reliable trucks that have put Chevy on the map time and time again without fail. More importantly, they have also served countless millions of truck owners for personal and professional uses in a variety of conditions.
What's so special about a Chevy truck? It is the combination of great performance, large hauling and towing capacities, and a form of reliability that is virtually unrivaled by other manufacturers. When you purchase the Chevy truck, you do so knowing that it is a long-term investment. With a little bit of maintenance and care throughout its lifetime, it can continue to run well into the hundreds of thousands of miles.
Here are a few more details related to Chevy trucks and why you should be looking at one for your next major vehicle purchase if a larger size is right for you.
Who Needs a Truck?
You may not picture yourself behind the wheel of a larger midsize or full-size truck. In fact, very few people do unless they have the experience growing up with them or a job that requires a larger vehicle. Instead, many truck buyers have a common experience in discovering the benefits of the truck: they know they exist, they test drive one, they do a little research, and determined that a pickup is the best choice for them.
The beauty about a Chevy pickup is you get a variety of options in terms of sizes, bed lengths, and cabins that can fit many different uses while driving. Even if you don't live on a farm or have a job that requires a lot of hauling capability, a truck may still be right for you. Anytime you want the larger presence of a truck with the ability to carry extra cargo, it is a worthwhile choice to consider.
City dwellers often find a truck to be surprisingly useful in the stop and go environments of urban infrastructure. Small to midsize trucks, for example, often get better gas mileage than other SUV counterparts while offering more cargo space. Depending on the company you choose, a truck may have more room for up to six people inside than smaller SUV options.
If you're out in the country, a truck is right at home. Getting the best gas mileage at highway speeds, larger trucks are the workhorse of many farms, grain elevators, and other rural businesses and operations. You can go either midsize or full-size for this environment to get the maximum level of benefits from the larger vehicle.
Unless you need a reliable family commuter or have a larger number of people to transport, a truck is always a great option to consider when you are exploring your different vehicle possibilities.
Different Chevy Trucks to Consider
The Chevy truck lineup is one of the most extensive regarding different models, engine options, bed lengths, cabin sizes, and more. When you put all the different possibilities together, you will truly understand how this model lineup can provide you something specific to your own needs and wants.
The first decision to make is whether you want a midsize or full-size truck. This will limit the models that you will look at. Midsize trucks are great for better fuel efficiency, more maneuverability, and a more car-like feel behind the wheel. Full-size trucks, on the other hand, maximize the performance and capabilities you can get from the pickup. More powerful engines, larger cargo capacities, and a bigger presence on the road make you feel like you're driving something with substance.
The Chevy Colorado is the midsize truck in the Chevrolet lineup. This comes with several different cabin and bed lengths to fit many different uses and needs. Capable of carrying 2-5 people, this is also a great family commuter option if you want the ability to haul more groceries, the occasional garage sale finds, furniture, or anything else that can fit any 6-foot bed.
For the big boys in the lineup, you have to go with the Chevy Silverado. This light to a heavy-duty truck is the premier professional work vehicle for a lot of people with jobs with high-performance demands. You can get a lot done with the larger size, more powerful engine options, and greater bed/cabin spaces. Some people even drive these around town just for the more stable, smoother feel and handling a full-size pickup can provide.
Whatever option you go with, it's difficult to go wrong with the Chevy truck. Many people understand how a larger vehicle like a truck gives you better handling capabilities and a smoother ride overall. Even though turning is diminished a little bit, it doesn't take long to get used to the different handling characteristics a truck brings if this would be your first time driving one.
In the end, a truck should be on your list of possibilities if you want to experience a more unique ride with greater, more diverse capabilities and characteristics.
Getting Behind the Wheel for a Test Drive
The best way to experience what Chevy trucks can truly offer is from personal experience. Scheduling a test drive at Carl Black Nashville, for example, will give you a more nuanced feel of what a Chevy truck is like to drive. Test out something like the Silverado to begin to understand how the larger size of the vehicle feels in the steering wheel. You can also discover how the acceleration from a more powerful engine and deceleration from have heavier brakes feel in the pedals.
Having someone to answer all of your specific questions is also a great benefit. Our experienced sales staff is on hand to help you learn all you need to know about the personal details of driving and owning a Chevy truck. They will make sure you have all the information you need to make the best decision for yourself and your needs in the long run.
The best way to start discovering what Chevy trucks can provide you is to begin today. Give us a call, send us an email, or visit our dealership in person to check out our existing Chevy truck inventory and to schedule a test drive.