Engine oil recommendations for Chevrolet vehicles

What engine oil should I use for my Chevrolet vehicle?
Choosing the correct oil type is important to keep your Chevrolet vehicle running smoothly. Different oil types are best for different types of engines. Below, we break down the engine oil recommendations for Chevrolet vehicles to help you choose correctly. 
---
Chevrolet light-duty diesel engine oil 
recommendation
For Chevrolet vehicles with a light-duty diesel engine, Chevrolet recommends a dexos2 ™ Full Synthetic oil. This includes vehicles from the 2011 model year through the current model year. Check with a dealership if you don't know what type of diesel engine you have. 
---
Chevrolet Duramax diesel engine oil recommendation
If your Chevrolet vehicle is equipped with the more heavy-duty Duramax diesel engine, Chevrolet would recommend a 15W40 CJ-4 Full Synthetic oil. This option is made to better protect your hard-working engine. Our technicians here at Carl Black Nashville will always use the recommendation from Chevrolet. 
---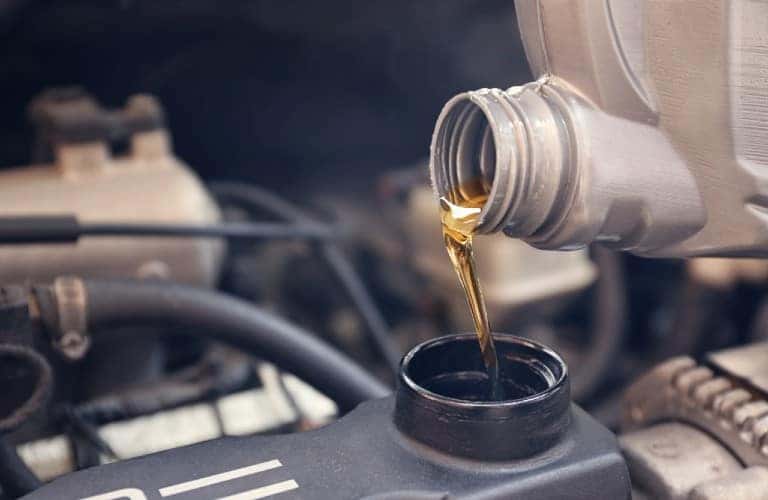 ---
Chevrolet gasoline engine oil recommendation
Dexos1 ™ is the recommended Full Synthetic oil for Chevrolet vehicles with gasoline engines that are either from the 2011 model year or a newer model year. Gasoline engines are among the most common engines for every vehicle brand, including Chevrolet. If you are unsure what you have, check your owner's manual. 
---
How can I find the oil recommendation for my specific Chevrolet vehicle?
Let's say that you want to double-check or that you have an older Chevrolet vehicle than a 2011 model. You can come into our dealership and ask a service technician. Our professional team will be able to find the correct answer for you.  
If you want to stay home, then consult your owner's manual. Every new Chevrolet vehicle should come with its own owner's manual with service specifications. Failing that, there are Chevrolet owner's manuals available online for you to use.  
---
What do the Chevrolet dashboard and warning lights mean?
---