What is the range of the 2020 Chevrolet Bolt EV?

The demand for eco-friendly and efficient electric vehicles has dramatically increased in recent years — and helping lead the way is the Chevrolet Bolt EV, with its state-of-the-art electric powertrain, high-level efficiency, and impressive range.
2020 Chevrolet Bolt EV Range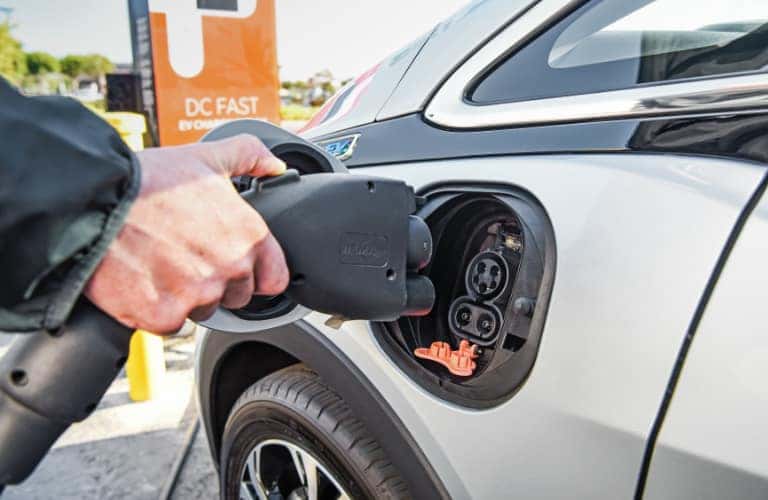 The 2020 Chevrolet Bolt EV gets an estimated range of 259 miles after the vehicle gets a full charge on its battery. This is an increase in range of 21 miles over the 2019 Bolt EV and a higher range than the base-level Tesla Model 3.
The impressive range can be credited to refinements made to the battery of the Bolt EV, with changes to the battery cell chemistry, resulting in an improved energy output of the battery cell electrodes. Another benefit of improving the range by focusing on the cell chemistry is that no changes were needed for the physical battery pack and how it is positioned in the car.
Charging the 2020 Chevrolet Bolt EV
The 2020 Bolt EV can be charged at home with a 240-volt/32-amp charging unit. For a faster charge while on the go, the 2020 Bolt EV can be charged at a public DC fast charging station. For convenient home charger installation, Chevrolet formed a partnership with Qmerit to help Bolt EV owners find a home EV charging station installer around where you live.
Read More: How efficient is the 2019 Chevy Malibu?
Bolt EV owners can also utilize the Chevrolet Energy Assist feature on the myChevrolet mobile app for assistance with finding public charging stations, monitoring your route, and planning trips around charging stops. The Energy Assist feature can also send you an alert if your destination is unreachable based upon the Bolt EV's battery level and available charging stations along your route.
What is the release date and pricing of the 2020 Chevrolet Bolt EV?
While Chevrolet has yet to announce an official release date for the 2020 Bolt EV, it's expected to arrive at dealerships nationwide later this year (including Carl Black Chevrolet Nashville). Pricing for the 2020 Bolt EV starts at $37,495 MSRP.